START
OVERVIEW
BeOne connectivity panel integrates most common audio & video and USB connections into one. To be pre-installed in the most frequently used place, users can conveniently connect their laptop, media player, gaming console or cell phone to displays or projectors through BeOne nearby. BeOne also provides a LAN (RJ45) and a PHONE (RJ11) jacks for computer and desktop phone, plus two Universal Power sockets it almost settle down all the electronic devices around.
DESIGN
Strength behind smooth
Differing from the regular media wall plates, BeOne is powered by a remarkable chipset to transform all input signals into digital format, and send to the display via signal one HDMI cable. By so, you can get rid of embedding over ten cables, easier to insure the quality standard, and have the pictures reproduced with lowest signal lose. Wall mount installation of BeOne allows only 13mm left out of the wall, to save a lot of space and never messing up your table.
FUNCTION
The front panel is made from drawing stainless steel, all the round corners are carefully crafted and polished. Surround it is the sense panel with instruction LEDS. The LED will be lighted up once the specific input is connected. Users also can touch the LED to switch to a specific input. In addition, adoption of Consumer Electronics Control (CEC) technology makes BeOne can automatically switch to the latest plug-in and switching back to the last one when current input is disconnected.
INSTALLATION
Installation
Front panel
Bracket
Main console
Wall cutout
Concrete anchor
SPECIFICATION
SPECIFICATIONS
Main console
Front View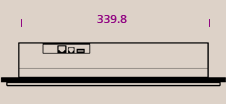 Top View
Side View
Bracket
Front View
Side View
Wall cutout
Front View
Output Channels

1* HDMI port;1* RJ45;
1* RJ11; 1* USB 2.0
Power Sockets

2* 110/220V Universal Socket
Input Channels

1* HDMI port; 1* VGA port;
1* 3.5mm AUX jack | Sync with VGA;
1* S-video port;
1* Composite Phono;
2* Stereo Audio Phono | Sync with
Composite/S-video;
1* USB 2.0 [Charging | Passthrough]
Ethernet Port

RJ45
Phone Connector

RJ11
Max Bandwidth

5.1Gbps
IN- Resolutions

HDMI # 480P, 576I/P, 720I/P, 1080P@50/60Hz ;
Composite / S-Video # 480P, 576I/P;
VGA # 640x480, 1024x768, 1280x1024, 1440x900, 1600x1200, 1920x1080,1920x1200
HDCP

HDCP 1.0/1.1/1.2 compatible
HDMI Version

HDMI 1.3b and lower
Audio Signal

Compatible with DTS-HD/ Dolby Digital
TrueHD / LPCM7.1/ AC3/DSD etc;
Power Supply

Internal # 5V@2A (Built-in transformer)
External # 110/220V
CEC controls

Consumer Electronics Control | if applicable
# Auto-switch TV to take HDMI input when any media device connected to BO
# Auto-switch TV back to regular programs when devices are disconnected;